Family Fun with: Buggy Walks & Buggy Talks….
Its fantastic when the weekend arrives & we get to spend some quality 'Äòfamily'Äô time together. Deciding what to do however is a fraught with much um-ing and ahr-ing.¬† Ultimately for us, the weather will have a major impact on our final choice of activity! We'Äôre a very 'Äòoutdoorsy'Äô family, & whenever we have the opportunity to 'Äòpound the streets'Äô with Bear in his buggy, this comes up trumps. Located on the outskirts of London, we are perfectly positioned for town or country walks, today'Äôs choice: a town walk. Out of the front door & over to Petts Wood for Brunch. Once we arrived Bear promptly evacuated his buggy for the more appealing prospect of Garden games with Nana & Granddad! & Our choice of buggy? The 'Phil & Teds Dot'. Choosing the right buggy can be a tiresome task, & this is how we eventually settled with ours:
When we were purchasing our buggy & Bear was just a mere bump, I must have read every article possible on travel & buggy 'Äòsystems'Äô. Jeez, Is there a lot to take in! Given our passion for the outdoors, we decided pretty early on that a 'Äò3 wheel'Äô sports design would suffice for us. We opted for the Britax B-smart¬†travel system, with the isofix car seat + base. As a new parent this was very simple to use & easy for us get to grips with. Sadly though, as my little munchkin grew, became more alert & upright (like the modern day man!) I noticed he wasn'Äôt at all comfortable in the seat of the B-smart. It appeared the seat needed to incline further & to compensate for the lack of this he had to pull himself forward. I'Äôm not sure if this was a one off faulty buggy or an overall issue with this particular design. Panic started to ensue within me! I adored the robustness of the B-Smart & i felt assured using a brand such as 'Britax'. Having already spent the time researching & splashing out a fair amount of cash, what would i do now that it appeared 'not fit' ? Paying that kind of large sum again¬†wouldn't be possible.
I contacted Britax (their customer service was pretty good) & because the purchased was made through Mothercare, they directed me back to a store for help. Off I trotted down there. Slightly apprehensive, I demonstrated to the manager what was wrong, & he totally agreed. I received such good customer service; my mind was instantly put at ease. Luckily, because the buggy was within it'Äôs guarantee & deemed 'Äòfaulty'Äô, I was able to exchange it. Hesitant to go for the same design again, incase the issue would reoccur, I exchange for a different make & model. Electing this time for the Phil & Teds Dot¬†. It'Äôs just slightly smaller than the original Phil & Teds (read all about it here). What a great decision! We'Äôve had it for 1 & ¬Ω years now, & I have no complaints. The fantabulous thing about this design is that it'Äôs a 'Äòfully adaptable'Äô stroller for 2 children. Of course, I'Äôm not trying to drop any¬†subtle not so subtle hints' to my darling hubbie (would I?), but it makes a great choice for the possibility of siblings!
I use ours with a Bowron¬†stroller lambskin fleece & I'Äôd highly recommend the benefit of these: it'll stop bubba from getting all sweaty betty in hot weather but keeps them snug as a bug in the winter. On our trips to sunnier climes, it has been a godsend-keeping bear from over heating.
For our 'world' travels, I did purchase a 'umbrella' stroller: the Maclaren Techno XT . It may sound extravagant to have bought a 'holiday' buggy, but hear me out; I think this is well founded. I picked mine up on eBay, second hand for £70 & being a well-made Maclaren it was in such good condition. It's travelled around the globe with us, has been man handled by countless ground staff & momentarily lost on the tarmac at Miami airport, fortunately to be found again (looking a little soggy) & It's still going strong! Now, I don't know about you but I wouldn't fancy putting a £300 buggy like my precious 'dot' though all of that? I appreciate which one would dent the wallet more, if it had to be replaced!
A good buggy/ system can set you back a small fortune. But if you invest wisely, they can last you for years. My best tips are:
Buy from a retailer where you can return to store: I know there are heaps of great deals online, but there really is nothing quiet like the reassurance & convenience of being able to visit a store in the instance of any faults-as per my experience
Price match. Nearly all stores price match. Find your products with corresponding prices & present them to the shop. That way you can get Internet best prices in your local store. Mothercare , Kiddicare & John Lewis (to name a few) all engage in price matching. & Remember, if you don't ask, you don't get.
Try before you buy. Kiddicare Lakeside has a huge area for 'test driving' strollers. & The best bit? No 'Learner plates' required-even if you are a novice! Baby shows are also handy for this.
Buy what is best suited for you. Don't be influenced by celebs: what they use more than likely has been 'gifted' as a form of PR. So don't believe the hype.
Less is, well, less. Space is key, so buy according to your available space & weight tolerances…. These pieces of equipment can weigh as much as a small army tank. Great at toning your arms, but also great at 'putting your back out'! Check the dimensions will fit in your car, or how suitable they'll be on public transport.
Research. Narrow down your choices & check the reviews. You'll find these splashed all around the Internet (Which? are always great at unbiased opinions).
Check your home contents insurance. In fact, at the same time have a look at what other 'baby' equipment might be covered. Children are an expensive hobby!
As I write this London basking in some unseasonably warm sun & we have been taking full advantage of every ray: We dusted off the cobwebs on 'dot', pumped up her tyres & I've been let loose on those pavements again! Watch out pedestrians…….we're going a' cruising' & "I'm rollin' with ma homie'!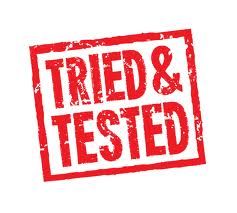 I've linked this with
My family Fever:
go check out the other tried & tested reviews this week!